Stephen Euin Cobb
…was a Guest Author at
StellarCon 2004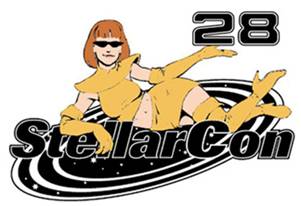 (Click to go to the StellarCon website)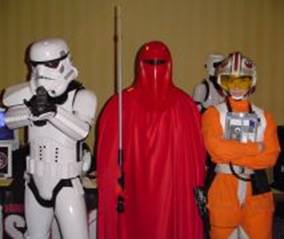 A Star Wars triumvirate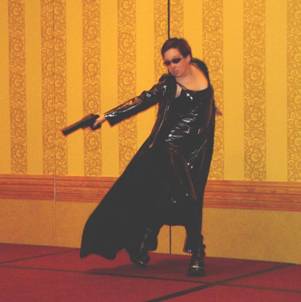 This Matrix gal has got all the moves.
Trinity had better watch her back.
--------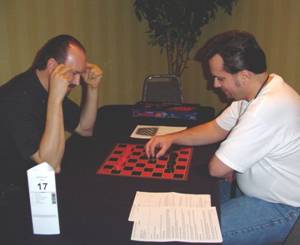 Despite having invented the game of "Death Stacks"
Stephen is not actually very skilled at it.
Here, he assumes his usual perplexed posture for the game.
Ron McClung (his opponent) is an avid gamer and chairman
of the con com that puts on ConCarolinas
—Charlotte's own SF&F convention.
(June 4-6 2004)
This year ConCarolinas will host
the 1st annual Death Stacks Tournament.
Trophies and a $250 first prize will be awarded.
(Stephen is not eligible,
which should save him a great deal of embarrassment)
--------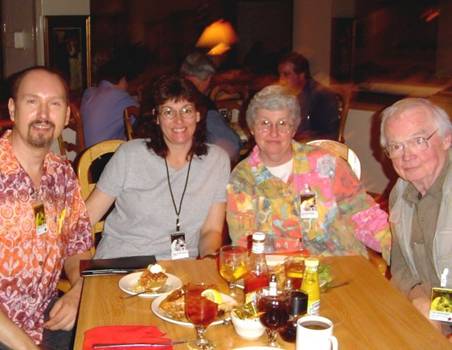 Stephen and his sister Peggy had lunch with Joan and Fred Saberhagen.
(The waitress was kind enough to shoot this picture.)
All four had grown up in the Chicago area
and so had plenty of anecdotes to exchange.
Stephen was surprised to learn from Joan that
although Fred's entry in the Encyclopedia of Science Fiction
has his first name listed as "Frederick," that's not his name.
--------
Panel:
"The Transcendent Vampire"
(How and why did vampires change
from being evil monsters to playing the heroes.)
Stephen had the honor of
participating on this panel with Fred Saberhagen.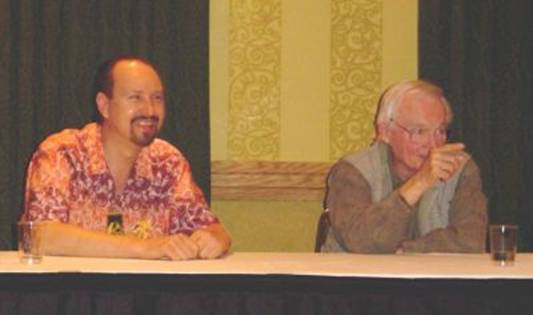 The audience kept them both on their toes.
Fred Saberhagen has written many novels concerning vampires (his Dracula series).
Stephen Euin Cobb only writes Hard SF, but he's pretty sure he saw
the old black and white movie "Dracula" when he was a kid.
(Just kidding. He's certain of it.)
--------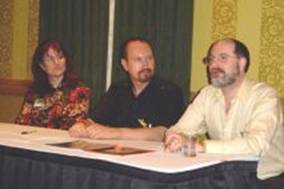 The Godzilla Panel
Glenda C. Finkelstein
Stephen Euin Cobb
Stephen Mark Rainey
Stephen Mark Rainey proved himself to be a vast storehouse of information on all things Godzilla.
He has seen all the movies several times—in both English and Japanese (I'm not kidding).
He knows actor names, director names and the order in which the movies were released.
Stephen Euin Cobb had seen some of them when he was a teenager.
Sensing he was out-gunned, our hero concentrated on providing brilliantly probing questions for
his fellow panelist, while hoping that Glenda would mimic his clever (if desperate) plan.
She did. So they all came out looking good.
(Glenda writes SF with a spiritual-inspirational slant)
Glenda C. Finkelsein's Website
--------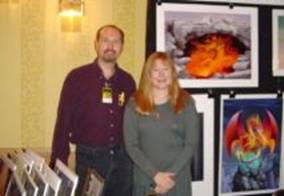 Stephen had a chance to talk with the world-renowned artist Rowena.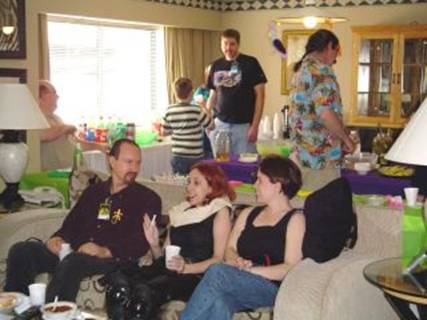 Stephen relaxing in the con suite with Tera Fulbright (redhead).
Tera was in charge of the con's guests and did an excellent job.
But the unsung heroes of StellarCon are
the staff of the con suite.
The food was plentiful and excellent.
When Stephen mentioned to Bill Mann that
the food was as good as that at Dragon*Con,
Bill laughed and said,
"Regina Kirby, our Con Suite Director, is
the Director is charge of the VIP Suite at Dragon*Con."
--------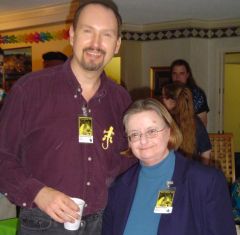 Stephen also had a chance to talk with Marilynn Byerly.
Marilynn writes SF&F romance novels.
She shared with Stephen
some choice bits of news
from inside a few of the
major New York publishing houses.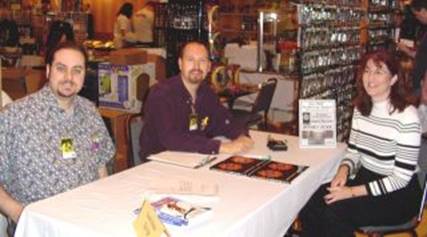 Stephen signing books in the dealer room
alongside James Maxey
(author of Nobody Gets the Girl)
Glenda C. Finkelstein stopped by to chat.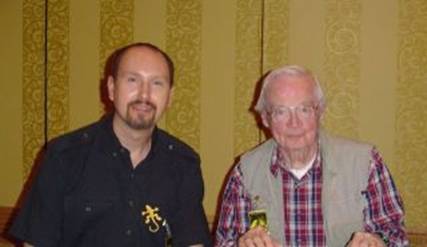 Stephen hanging out with
Fred Saberhagen between panels.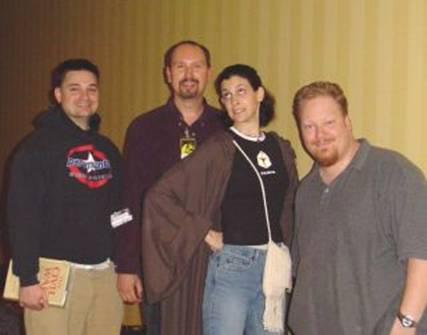 Stephen with the cast and crew of
the web radio show
Requiem of the Outcast
(Ron and Janine, and host Rich Sigfrit)
These people are crazy-funny.
They can't even say 'Hello' without it turning into a three-ring standup routine.
When they asked to interview
Stephen on their show
he told them he would only do
the show, "If you promise not to make fun of me."
When all their faces fell, he added "…much,"
and they brightened again.
Website for "Requiem of the Outcast"
--------

The Panel
"The Nature of Evil"
(James Maxey, Paula S. Jordan, Stephen Euin Cobb,
Fred Saberhagen, Stephen Mark Rainey, Allen Wold)
Paula is a NASA orbital technician.
Allen Wold has written novels as well as non-fiction.
--------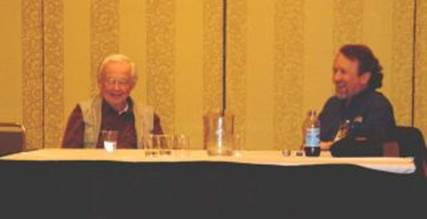 The Panel
"I am Fred Saberhagen"
Michael Stackpole did an excellent job moderating this panel.
He interviewed Fred as well as any talk show host could have.
--------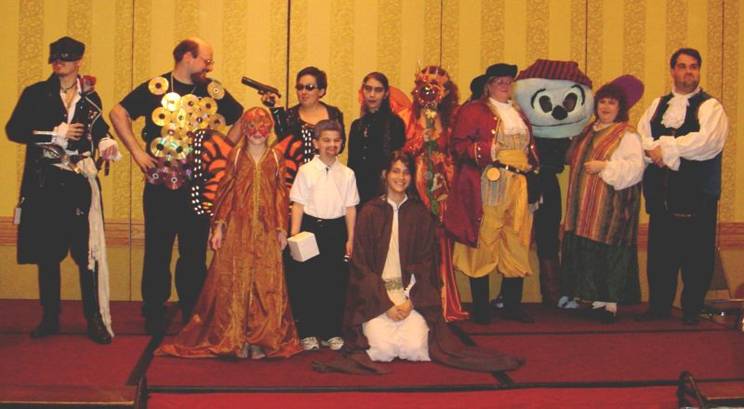 The Costume Contest
(All the contestants on stage together)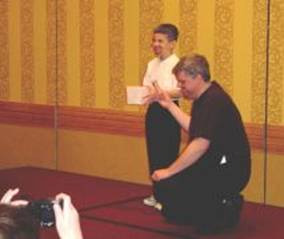 Bill Mann (head of StellarCon's con com)
discovers he has something in common with Dr. Evil
…his own Mini-Me.
--------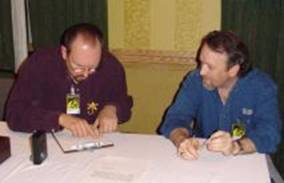 Stephen analyzes the handwriting of Michael Stackpole.
Michael was skeptical.
He suggested an experiment:
"Next time, tell the person exactly the opposite
of what you see in their handwriting
and see if they accept it or reject it."
Stephen agreed to the experiment
but has not yet set a time or place.
--------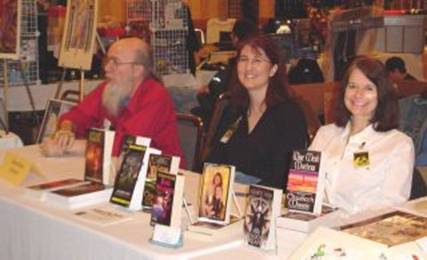 Another book signing in the dealer's room.
(Allen Wold, Glenda C. Finkelstein, Elizabeth Massie)
--------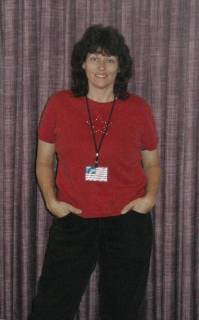 All these photos were taken by
Stephen's loyal assistant
and sister:
Peggy Sue Cobb-Gregory.
(Except of course this one, which Stephen took.)
==========================
Websites mentioned on this page:
Glenda C. Finkelstein's Website
Website for "Requiem of the Outcast"
==========