Stephen Euin Cobb
…was a Guest Author at
LibertyCon 2004
This con was a special one for Stephen.
Larry Niven has been his personal hero for twenty-five years
and this was to be the first time Stephen would meet him, speak with him,
and serve on a panel with him.
Stephen was excited and a little bit nervous.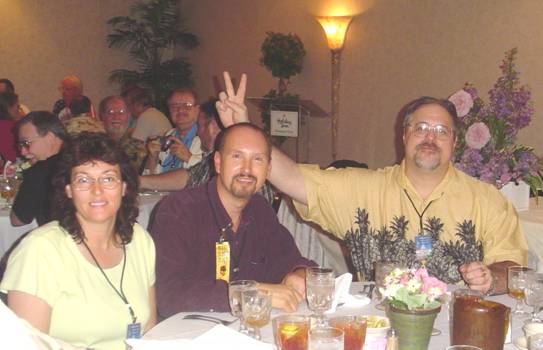 Stephen had the honor of being gently teased by David Weber
and snickered at by Larry Niven and Jerry Pournelle.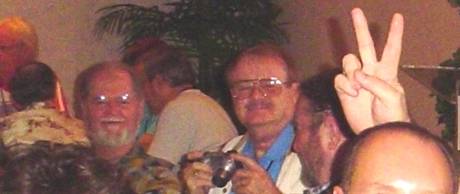 ----------------------- Click the image of Lady Liberty to go to the LibertyCon website.
----------------

Generally mild-mannered, Larry Niven told a few stories that had everyone rolling.
(Left to right)
David Weber, Eric Flint, Larry Niven, Jerry Pournelle
--------------------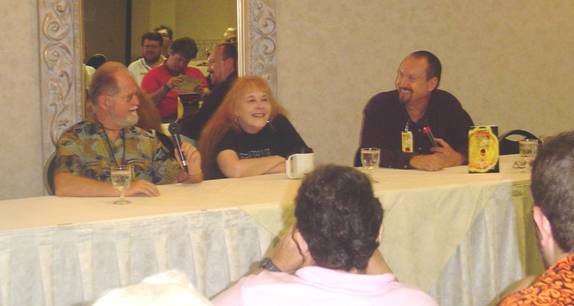 Being "the new guy," Stephen was
drafted by his fellow panelists to be moderator.
Stephen didn't mind.
This was his first panel with Larry Niven,
so he was pretty excited.
Besides, Stephen loves to talk almost as much as he loves to write.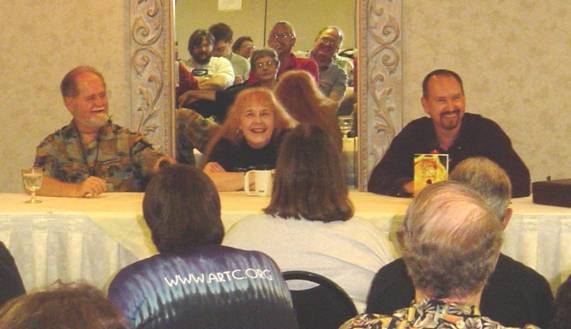 (Left to right)
Larry Niven, Sharon Green, Stephen Euin Cobb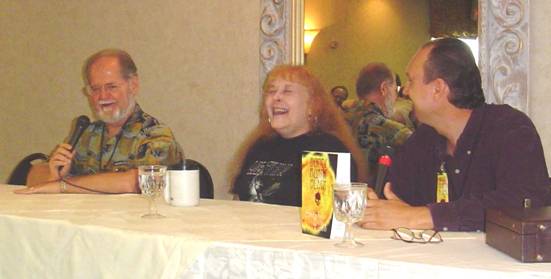 --------------------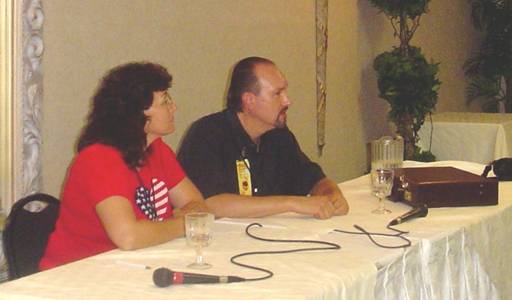 Peggy Cobb-Gregory (Stephen's photographer, assistant and sister)
was scheduled to be on a panel with Mrs. Pournelle and Mrs. Niven,
but her co-panelists were unavoidably delayed.
This being Peggy's first panel,
Stephen sat in with her so she wouldn't be alone.
(Hey, what are brother's for?)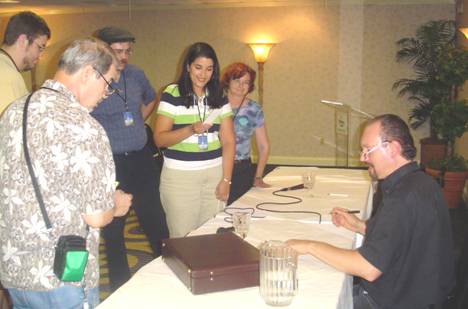 Afterward, Stephen signed a few books.
---------------------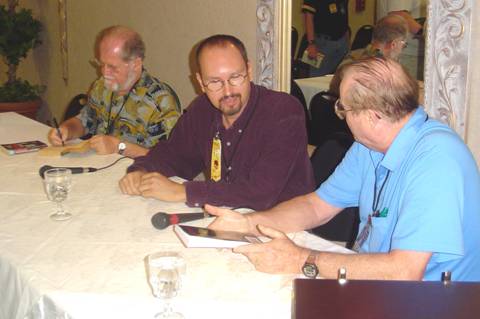 Jerry Pournelle asking Stephen a few questions about
his most recent novel—Bones Burnt Black.
As a Hard SF writer, Jerry was curious
about the technical accuracy of Stephen's work.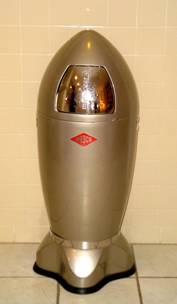 The hotel provided
LibertyCon with
trash cans shaped like
rockets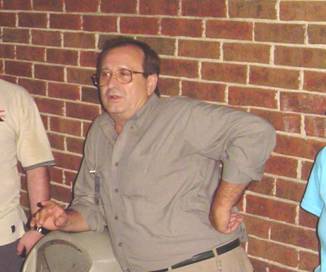 Eric Flint talking with fans in the "smoking section" of the hotel.
(That's right, he's outside.)
Always a laid-back and informal speaker, Eric was wonderfully amiable and forthcoming.
He answered questions, gave writing advice,
and told dozens of anecdotes—all to the delight of his fans.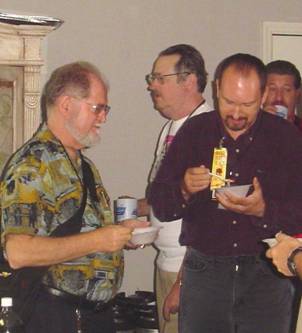 Stephen sharing a bowl of Chile
in the con suite
with Larry Niven
-------------------------------------------------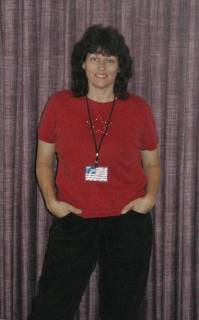 Most all of these photos were taken by
Stephen's loyal assistant
and sister:
Peggy Cobb-Gregory.
(Except of course this one, which Stephen took.)
==========================
Links to Author Sites:
Larry Niven (Did I mention that he's Stephen's hero?)
David Weber (author of the "Honor Harrington" series, and many other novels)
(Where many more fine authors can be found)
==============

Stephen's new show
"The Future And You"
Ideas and opinion about the future based on verifiable facts of today.
Guests include:
Authors, Scientists, and other Pioneers of the Future
==========